Takeda Clean Room
東京大学 超微細リソグラフィー ナノ計測拠点
The University of Tokyo, Ultrafine lithography nano-measurement center
感染症対策
Infectious Disease Control
新型コロナウイルス感染症への対策について
Measures to Combat New Coronavirus Infections
東京大学における新型コロナウイルス感染症対応活動制限レベルが 3月 22日よりレベル 0.5 に引き下げられました。

以下のルールはこれまで通りではありますが、今一度ご確認の上、遵守をお願いします。

・自己健康管理、及び、健康管理報告と入構可メール転送、の徹底をお願いします。
・入室予約(前日昼まで)の徹底をお願いします。
・地下2階入口、前室、控室、更衣室の定員を守り、会話は可能な限り控えてください。
・装置前での密を避ける、顔を向き合っての会話を避けるようにしてください。

以上、感染拡大を防ぎ、研究活動を継続するためにご協力をお願いします。

また、緊急事態宣言中は、1つの作業をするために、複数名でクリーンルームを来訪するのをお控えください。
反対に、1名の研究者に複数の作業を任せ、来訪の人数を削減されることをご検討ください。
クリーンルームの中には、潤沢なネットワークがありますので、リモートで研究技術を見て勉強し、「研究室内での仕事の集約」「サイバーフィジカルクリーンルーム作業」への行動変容を、お願いします。
お困りの際はメールにてご相談を受け付けております。よろしくお願いいたします。
The University of Tokyo has reduced the level of restrictions on activities in response to new coronavirus infections to Level 0.5 from March 22.

The following rules will remain unchanged, but we ask that you check them once again and comply with them.
Please make sure to take care of your own health, report to the health care center, and send an email to the health care center.
Please make sure to reserve a room by noon the day before.
Please keep to the maximum number of people in the entrance, front room, waiting room, and changing room on the second basement floor, and refrain from talking to each other as much as possible.
Please avoid close contact in front of the equipment and avoid face-to-face conversations.

We ask for your cooperation in the above to prevent the spread of infection and to continue our research activities.

In addition, during the declaration of an emergency situation, please refrain from visiting the clean room with more than one person to perform a single task.

On the contrary, please consider delegating multiple tasks to one researcher and reduce the number of visitors.
There is an abundant network in the clean room, so please watch and study research techniques remotely, and change your behavior to "consolidation of work in the laboratory" and "cyber-physical clean room work.
If you have any problems, please contact us by e-mail. Thank you very much for your cooperation.
ニュース
News
講習会情報や受賞はこちらから!
Click here for information on workshops and awards!
現在予約受付中のセミナーはありません。
There are no seminars currently open for reservation.
2021年の新人講習会の日程のご確認と予約はこちらから。
大講習会は5月17日と25日を予定しております。予約開始までお待ちください。
The dates for the 2021 Newcomer's Seminar have been finalized.
The big training sessions are scheduled for May 17 and 25.
令和2年度「秀でた利用成果」最優秀賞受賞しました!
We were awarded the highest award for "Outstanding Achievement" in 2020!
4/7 4/8は大掃除のため、クリーンルームの使用をお控えください。
On 7 and 8 April, specialists will come to clean Cleanroom. Please do not come to use CR.
クリーンルームについて
About Clean Room
山手線内で最も清浄度の高いクラス1のクリーンルーム
The cleanest class 1 clean room in Yamanote Line
東京大学「超微細リソグラフィー・ナノ計測拠点」にようこそ!
東京大学は、2007年より文部科学省「ナノテクノロジー・ネットワーク」事業に参加し、その後の「ナノテクノロジープラットフォーム」にも継続して参加しております。
リソグラフィー・微細加工に有用な多岐にわたる装置・最先端の研究環境を提供いたします。産業界・公的機関の皆様、ぜひご相談下さい。

Welcome to the University of Tokyo Ultrafine Lithography and Analysis Center Home page!
Since 2007, The University of Tokyo has been part of the MEXT project "Nanotechnology Network" and the renewed project "Nanotechnology Platform". A wide-range of equipments is provided for cutting edge research environment. Both industries and public organizations are very welcome to contact us for more details.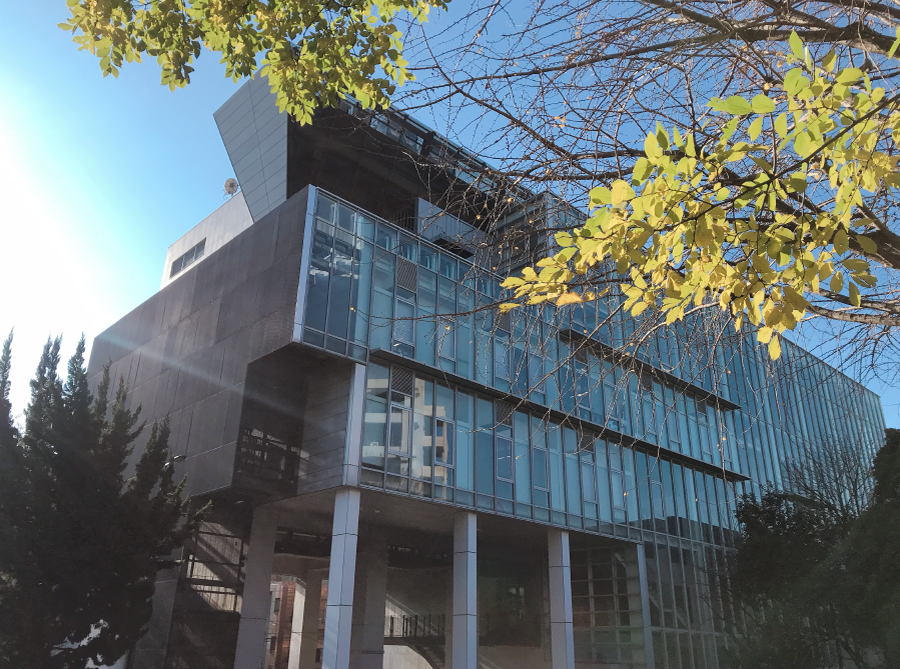 装置
Equipment
一流の装置群があなたのものに
First-class equipment for you