機械計測
Mechanical Measurement
MEMSデバイスなどの機械的特性評価と微粒子の各種パラメータの計測評価を行う装置がある。前者については、デバイスの微小振動や微小材料の機械変形評価等の装置があり、後者については分散している微小粒子の粒径分布、分子量、ゼータ電位、分子間力や粒子の動きなどを測定・評価する装置がある。
There are devices for evaluating the mechanical properties of MEMS devices, etc. and for measuring and evaluating various parameters of microparticles. For mechanical property evaluation, there are devices for evaluating micro-vibration of devices and mechanical deformation of micro-materials. For the measurement and evaluation of various parameters of microparticles, there are devices to measure and evaluate the particle size distribution, molecular weight, zeta potential, intermolecular force and particle movement of dispersed microparticles.
振動・変形測定
Vibration and Deformation Measurement
MEMSデバイスの振動測定には、光ヘテロダイン微小振動測定装置がある。レーザーのドップラー効果を利用するもので、1kHz~200MHzまで測れる。機械的変形の測定では超微小材料機械変形評価装置がある。押し込み硬さを計測するものである。
The optical heterodyne micro-vibration measurement system is used to measure the vibration of MEMS devices. It uses the Doppler effect of a laser and can measure from 1kHz to 200MHz. For measuring mechanical deformation, there is the Ultra Micro Material Mechanical Deformation Evaluation System. It is used to measure hardness by pressing into the material.
機械特性評価装置
Mechanical property evaluation equipment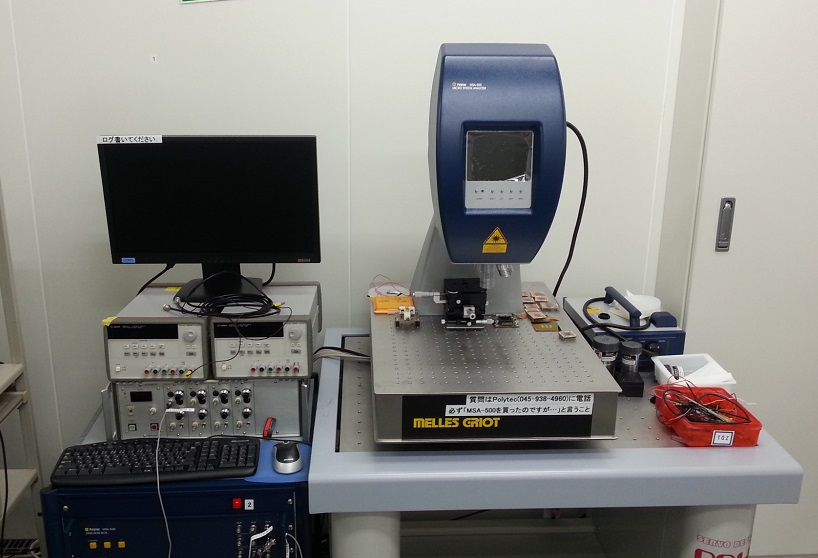 【English】MSA-500 Micro System Analyzer
【別名】Mems analyzer Polytec MSA-500
【型式番号】Polytec MSA-500 振動解析装置
【apparatus ID】112
【機器ID】F-UT-119
【機能】MEMS機構の振動解析を行う装置です。XY方向はストロボスコープ(1MHz)、Z方向はレーザードップラー振動計(1.5MHz)またはレーザ変位計(24MHz)にて測定可能です。測定した結果をアニメーションにして表示できるので解析に最適です。
【Alias】MSA-500 Micro System Analyzer
【Model Number】Polytec MSA-500
【Apparatus ID】113
【Equipment ID】F-UT-119
【Specifications】This system is designed to analyze the vibration of MEMS mechanisms, using a stroboscope (1MHz) in the XY direction and a laser Doppler vibrometer (1.5MHz) or laser displacement meter (24MHz) in the Z direction. The measurement results can be displayed as animation, making it ideal for analysis.